Welcome!

I love helping people to slow down and decompress.
After doing massage for 23 years, I still enjoy slowing down, honoring the healing spirits, and helping my clients to release tension.
In our fast paced society massage is a blessing that helps us go within to our own peaceful place to become more aware of our body's needs.
Here's my July Newsletter:
Jubilation: A feeling of great happiness and triumph. Exultation, Joy, Euphoria, Glee, Ecstasy, Elation, Rapture..... You get the picture.
Yoga and Yumminess: Friday 8/17 6 PM
Yoga for Relaxing the Jaw and Belly followed by yummy, nutritious snacks by Celestina of Wellness Cucina (http://wellnesscucinallc.com/) !
I'll post the menu and more details in my next newsletter.
What can you do this month to bring you some Jubilation or Joy?
Sometimes it requires some physical movement to get a kind of "Runner's High" otherwise know as being in "The Zone." I can get this feeling from a Spin Class at the gym or through dancing to live music.
Helping other people or Committing to your own self-care can bring a feeling of extreme satisfaction. Inspiration can be an idea for yourself or for the world (or anywhere in between).
This event on July 14th benefits Barrett Foundation whose mission is to end homelessness for women and children. For only $10 you can hear great speakers including my Mom give a seminar on Women's Financial independence and empowerment. Details are in photo below.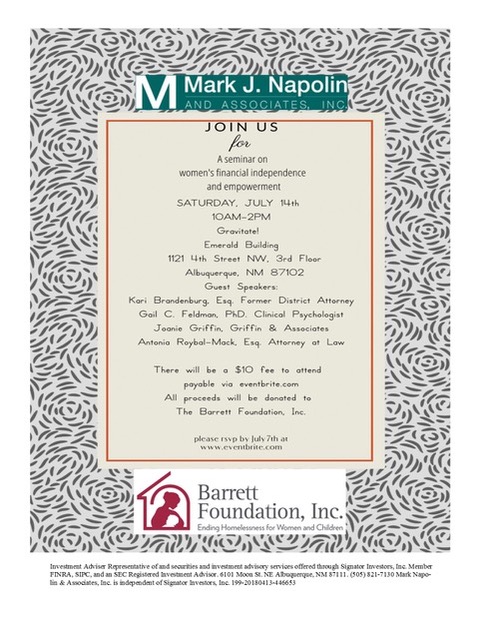 Accomplishing a goal little or big can bring some serious elation! Like after we cleaned out our entire garage I felt amazing satisfaction! When I managed to save $6000 for our trip to Scotland two years ago I was so jubilant and proud!
Being in Nature, Doing Yoga, Making Love, Praying passionately, Rock Climbing, Jumping on a Trampoline, Biking, Writing in a Gratitude Journal, Drinking wine with friends.....
Wishing you various kinds of Jubilation this July!
Love to you all,
Namaste, Niki
​​​​​​​
"Learn how to be happy with what you have while you pursue all that you want."
"Happiness is not something you postpone for the future; it is something you design for the present."
-Jim Rohn
Yoga With Niki
Mon/Wed 12:00-1:00 Yoga for Lunch at High Desert Yoga
Tuesday 5:30-6:30 PM Yoga 1-2 Midtown Sports n Wellness
"If you look after the root of the tree, the fragrance and flowering will come by itself.
If you look after the body, the fragrance of the mind and spirit will come of itself."
-B.K.S. Iyengar
Bodywork with Niki
Tune up your body and quiet your mind with individualized bodywork.
$80/hr or $115/90 min
Gift Certificates for sale!
505-620-3965
USANA Health Sciences: Effective Nutritional Supplements
More than just a multi-vitamin! The "CellSentials include Resveratrol, Quercetin, Hesperidin, Rutin, Alpha-lipoic acid, Green Tea extract, Meriva curcumin, and Olivol! Excellent way to support all of the systems in your body!
http://healthylifestyle.usana.com
Usana makes the highest rated Multi Vitamin in North America and has a full line of pure supplements.
They keep improving their supplements every year to stay on the cutting edge of Science-based optimum health. These products can really make a difference with optimizing your health, well-being, and energy level.
Their motto is "Live life and love it!"
Doterra Essential Oils